Hello there dear backers.
It is way past the release date. Sadly we have to announce that we need more time. We need at least a few extra months. We don't want to release an unfinished product. Balrum has to be polished!
There is good news too! Balrum is getting much bigger and we are adding extra features along the way. The remaining chapters are coming along nicely and we have a big update for you right now.
We would like to ask you guys something. What do you think about an open beta for all backers? The beta version has been out now for a long time. We are way past the release date so we think that we should at least give the beta to those who bought the game but had no beta access.
The beta does not include backer specific and backer created content. The content created by you will be in the final product.
The new beta is available now at the usual place!
Crafting has been rewritten and redesigned from the ground up. Now we have multiple craft panels for each crafting stage/element as opposed to everything being in one large panel. All crafting systems are more comfortable to use and all remaining crafting related features have been implemented. Now you are informed via a tooltip when something is not right about your custom recipe.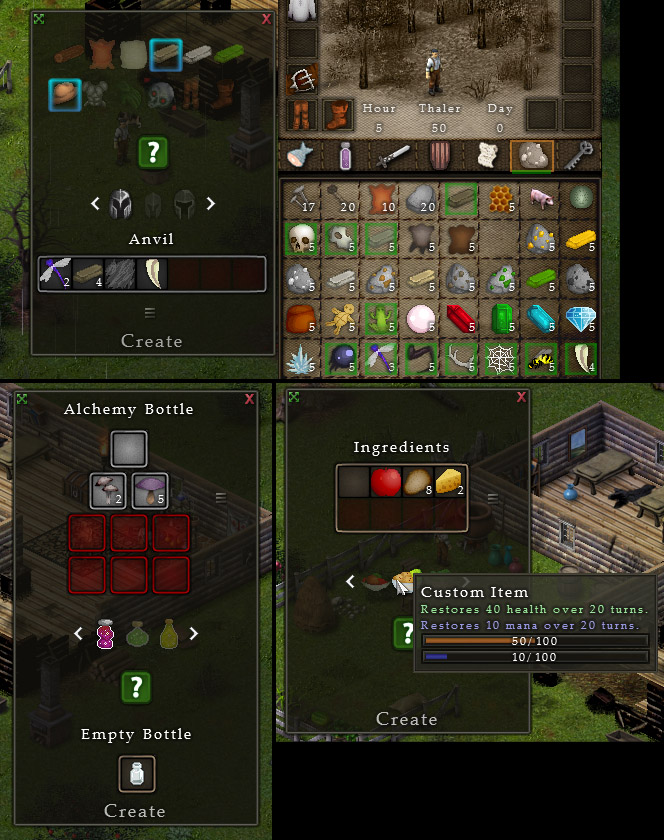 Now you have a chance for a critical craft! Items will receive a minor bonus if a critical craft has happened. You can increase the critical craft chance with a few items.
All those previously unusable items are now usable in at least one of the crafting systems.
Some weapons now have special on hit effects.
A few new items worth mentioning: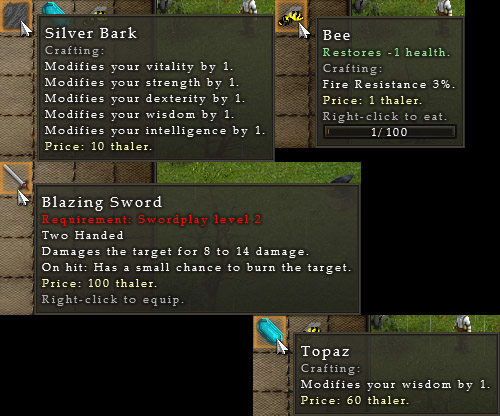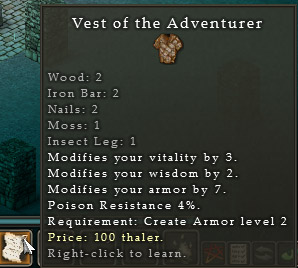 You should check out the trinket that Grandpa gives you! It might help you out in certain situations, but be prepared for a few surprises when using it!
Building your house has also received a big update. Now you are only able to build in a certain place (see what Grandpa has to say) but you are not restricted in any way. No more distance restrictions and other unnecessary things. You are able to build lots of things this time around (almost 4 times more than before). Also you will find special schematics for statues, paintings, trophies all around Darkwood.


Now you are able to build pig and spider troughs. You can release your bought/found pigs or spiders near the appropriate trough. Your livestock will produce "goodies" in the nearest barrel. If your animals are fed regularly they might produce offsprings.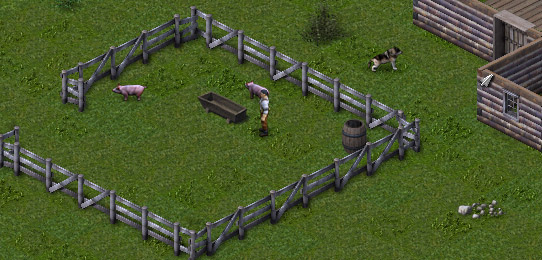 All remaining disabled quests and unfinished quests are now completed. You can except quests that have radical outcomes if you choose your path loosely.
Spoiler ahead! For example: You discover the true origins of an NPC and if you decide to cruelly inform him about this new knowledge the consequences might be dire. This might even put other NPC's lives in danger.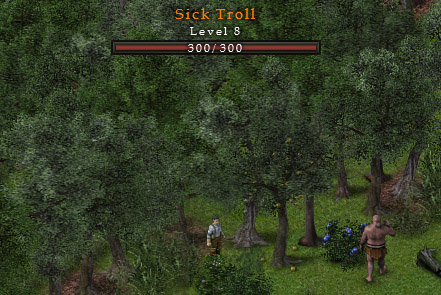 There are a number of new traps in the game including the "Taming trap" which enables you to capture a new pet if your Hunting skill allows it...
Read More