Hello everyone!
As we are getting closer to release we are back with a giant update for Balrum!
Backer content is being added to the game and if some of your creations are not entirely compatible with the game you will receive an email.
The entire game has been rebalanced and redesigned. There is almost nothing that hasn't been altered. From basic mechanics to bigger features like the new renderer everything is new. Even the maps have received a huge amount of changes. When you start up the game you might feel that it is familiar but when you play for a few minutes you will definitely feel that you are playing a very different Balrum. We truly hope that you will be pleasantly surprised. Almost every suggestion from the community has been added to the game!
This is the game we had in mind when we started our Kickstarter campaign. As you know Balrum is our first game. So most likely there will be a few bugs lurking around but this time we can finally show you a game that we are proud of. The previous versions were merely a shadow of what Balrum is now.
Thank you very much for your bug reports! All critical bugs have been fixed including a few nasty bugs that prevented you from running the game.
The new version is 0.90_205. You can find it at the usual place. We will send out the download information messages again to ensure all of you get the new version.
Now we would like to talk about some of the bigger changes.
Manual 
You will find a manual for Balrum in the root directory. This is an early version of the manual for the game.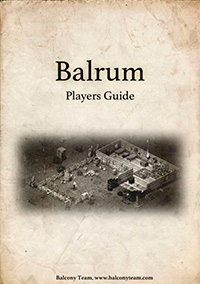 Balance 
The entire game has been rebalanced. From top to bottom Balrum is a new game. Small but important mechanics have been heavily altered, for example your dexterity now influences a lot of things. Enemy spells and stats have been completely rebalanced as well as your characters stats and abilities. Leveling up skills is different. You don't have to create dozens of weapons just to advance your weapon crafting skill to a new level. If you have the spare learning points you are able to learn a new level of the skill from a teacher. Traders, teachers, daily routines, enemy AI, item values, survival mechanics, cooking, alchemy, weapon/armor crafting and a lot of other things that have an impact on each other have been rebalanced keeping every aspect of the game in mind. Loot has been wiped on every map and hand placed again with much more care.
New Content 
New quests and lore bits are in. Chapter 2-3-4 and 5 is near complete. We think that the world of Balrum is now large enough for every adventurer but not too large that the content is sparse. There are multiple twists in the main story and lots of side quests for you to venture on. As you know the main story has three paths. The guild you choose will determine your path. We are extremely excited to show you the new chapters but as you know that will only happen on full release (for good reasons)...
Read More